VINCIT QUI SE VINCIT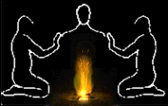 From these early volunteers the PGCG was born and every [Marbo] member, without exception, has benefited from their efforts. The PGCG has now matured into the well organised, experienced, fun loving and hardy group we see today.
The PGCG is co-ordinated by the Trustees of Crogen and The Sanctuary in Eastern Transylvania. All [current] Trustees are "Long serving members" with a minimum of ten years [active] membership. The Trustees are members of the governing body of The Pathwalker Guild, "PG Central". All the Trustees, without exception, have worked on the conservation of either [or both in some cases] Crogen and The PG Sanctuary, before becoming Trustees.
PGCG Members: The Pathwalker Conservation Group (PGCG) comprises those members who have an "active" interest in conservation, more specifically, the conservation of Crogen and The Sanctuary. Any member who wishes to take part in the PG's conservation activities can join the group through the PG Memsec.
PGCG Privileges: Members of the PGCG enjoy certain privileges for all the effort they put in behind the scenes conserving, the facilities of the PG. Privileges include:
Free food, training and accommodation when visiting the Sanctuary to help with the project.
Free training and one-to-one coaching and tuition when helping with the Crogen project.
The no alcohol rule does not apply to the PGCG when they have finished a days work. This is a special dispensation of PG Central. This is also the"loophole" by which we allow the "Horn" fireside during the evening dinner at an All Grades Weekends (AGW's).
As with all groups within the PG, applicants must be "Full" members.