The Pathwalker Guild Instructor Cadre (PGIC) is the training wing of The Pathwalker Guild and under the name of the Marbo School of Martial Arts and Survival (MSMAS) trains the Instructors that teach the "Apex" Martial Art of Marbo. All Marbo Instructors are registered with The Pathwalker Guild. Beware of imitators. Check their credentials. see www.marboschool.co.uk
The Pathwalker Guild Instructor Training Programme is, we believe, the standard by which all others could be measured.
All "Full" members are eligible to apply. (Applicants are advised to contact their branch secretary regarding bursaries avaliable through the Nightingale award). The candidate must be committed to the principles of best practice and meet the exacting standards required to be accepted as a member of the Instructor Cadre of the Pathwalker Guild (PGIC).
All candidates for membership of the PGIC must successfully complete the Marbo Red Path Course, after which the candidate has three options;
1. A residential 10 day course in N Wales. Tuition costs £450. (Local; Tent, Caravan, B&B, or hotel accommodation, can be arranged on request ).
2. Attend the six Instructor Day Trainers (IDT's). Tuition costs £75 per day*, or
A residential 10 day course at The PG Sanctuary in Transylvania. £475* includes; Tuition, Accommodation, Learning Materials (inc PG Instructors Handbook - PGIH), Food, Use of Facilities and Equipment, Assessment and Certification. *(Travel not included).
VINCIT QUI SE VINCIT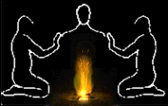 Repeats of the IDT's are donation free and once you have gained your Marbo Basic Course Instructor [Red Path] Warrant, you will be eligible to attend the Sanctuary for further professional training and holiday breaks.